This is the English version of this post.
🇩🇪 click here for German version | hier geht's zur deutschen Version dieses Posts

---
13 November 2018, Hamburg. Evidence performs as part of his Weather or Not Tour in Hamburg. The city shows the Weatherman its unpleasant side. We arrive at the venue, the Logo, for the soundcheck. Evidence is rapping, warming up. The ceiling is low, which creates an intimate atmosphere from the first bar onwards during Evidence's show. All concerts of his tour so far are sold out, as he proudly tells us later. After the soundcheck, his German tour manager brings us into the backstage room and introduces us to Evidence, who sits relaxed on a bench and politely greets us. He wears the dark coat we know from the cover of the Weather or Not album and the tour posters, as well as an orange Weather or Not cap (photos from the interview below).
Michael Perretta, known professionally as Evidence (Twitter, Instagram, Facebook), born 1976, is a rapper and producer from Los Angeles. With Rakaa and DJ Babu he forms the hip-hop group Dilated Peoples; with The Alchemist the hip-hop duo Step Brothers. In January, Evidence released his latest album Weather or Not to mostly favorable reviews (reviews at HipHopDX, DJBooth, Pitchfork). To many, the album is already among the contestants for album of the year 2018 – in a year full of great hip-hop releases.
On the Weather of Not Tour he only brought his DJ Mishaps (Twitter, Instagram, Facebook) from Los Angeles. His son stayed in the USA. No supporting act. No hypeman, weedcarrier, other homies or representatives of management or label. Only his two German tour-managers briefly drop in during the interview.
Evidence makes a pleasant, calm and relaxed impression. During the interview he is talkative, answers extensively, thoughtfully and professionally.
Evidence Interview – Questions
A few of the questions Evidence answered during our interview:
What does he think about Ol' Dirty Bastard? (the day of the interview was the anniversary of ODB's death ) → 0:00 Min.
What was growing up in Venice/Los Angeles like? Did he have anything to do with local gang members? → 1:37 Min.
When did he first get in touch with rap music? → 6:10 Min.
What was the process like for his new album Weather or Not? Was he surprised by the positive reactions? → 11:10 Min.
Has he ever experimented with Trap or G-Funk beats? Which influence do current trap productions have on classic/boom bap/golden era productions from his point of view? → 17:08 Min.
What does he think is the reason why the beat he made for Mac Miller did not end up on the Swimming album? → 22:39 Min.
Which part of Kanye West's track Last Call did Evidence produce and which Kanye? → 25:09 Min.
Which current albums does he listen to on his long drives through Europe? → 27:22 Min.
What does he appreciate about his fans in Europe? → 28:38 Min
How well does he know the lyrics to some of hip-hop classics like Criminal Minded oder Nuthin' But A "G" Thang? → our #famousbars game starts at 30:23 Min.
Evidence Interview – listen now!
Listen to the full interview (in English) by say say • soulful hip-hop radio with Evidence:
The Interview was recorded on 13 November 2018 in Hamburg, Germany. It has been edited for a better listening experience.
---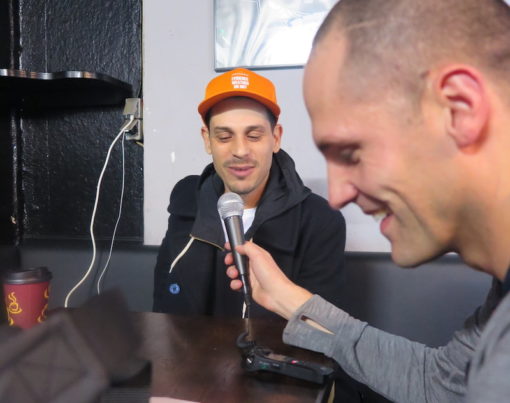 ---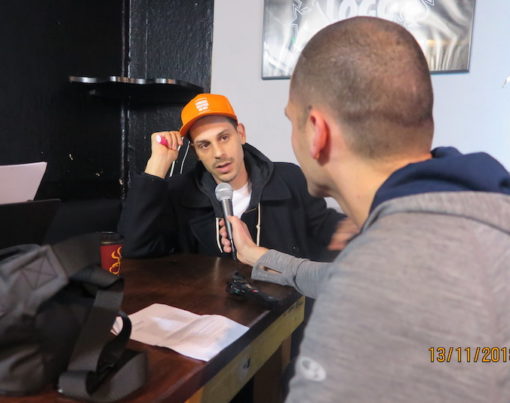 ---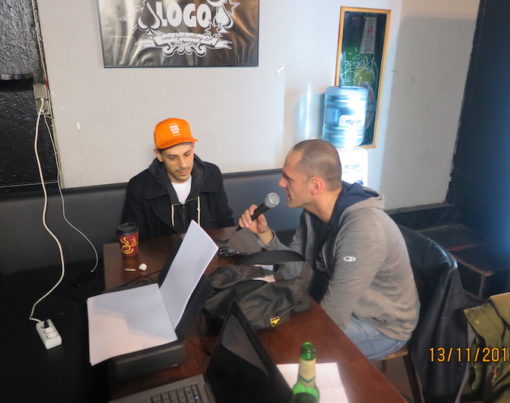 ---
Evidence / Dilated Peoples / Step Brothers – our Favorites
Dilated Peoples have released their first single in 1997. Until this day, they have released five studio albums: The Platform (2000), Expansion Team (2001), Neighborhood Watch (2004), 20/20 (2006), and Directors Of Photography (2014).
Our favorite Dilated Peoples track is Worst Comes To Worst (2001):
---
Most successful from a commercial point of view was This Way featuring Kanye West (2004):
---
Evidence released his first solo album The Weatherman LP in 2007, followed by The Layover EP 2008, Cats & Dogs 2011, Lord Steppington (together with The Alchemist as Step Brothers) and now in Januar 2018 his current album Weather Or Not (there are also mixtapes and instrumental albums not mentioned here).
Some of our favorite Evidence tracks include Chase The Clouds Away (2007), So Fresh (2008, Step Brothers with The Alchemist), You (2011, produced by DJ Premier) and Throw It All Away (2018):
---
As a producer, Evidence has produced many of his solo tracks as well as tracks by Dilated Peoples. He produced tracks for other artists including Defari, Madchild, LMNO (The Visionaries), Krondon, and Kanye West. He won a Grammy for co-producing the track Last Call on Kanye West's debut album The College Dropout (we talked about this in the interview):
---
---
interview by: freddy | fotos/videos during interview: julia | fotos/videos during show: freddy