[English version below.] DE: Nach unseren Halbjahrescharts (beste soulful Hip-Hop Alben für say say) und unseren Staff Picks (Hip-Hop & Soul Favorites unserer MORNINGSHOW-Moderatoren) wollten wir natürlich auch von Nick a.k.a. Fadeaway Barber wissen, welches seine Lieblings-Alben des bisherigen Hip-Hop-Jahres sind.
Wer Dienstag Abends (20 – 21 Uhr) die FADEAWAY BARBER SHOW auf say say hört oder Nick auf Instagram folgt, der weiß, dass Nick einen unfassbaren Überblick über alle Hip-Hop-Veröffentlichungen hat – vom Newcomer zur Hip-Hop-Legende. Für die say say Hörer hat er ganze 33 Empfehlungen ausgewählt!
Check die Liste unten, hör' die Musik und unterstütze die Künstler!
Tune unbedingt in bei der FADEAWAY BARBER SHOW, Dienstags 20 Uhr auf say say • soulful hip-hop radio!
---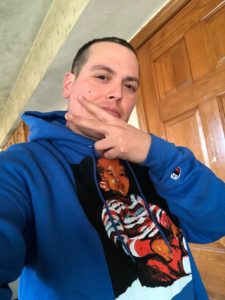 Nick a.k.a. Fadeaway Barber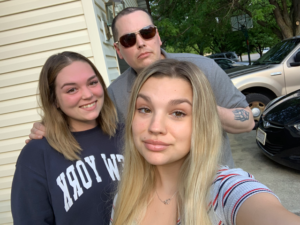 Nick and his daughters
---
EN: Following say say's Best of 2019 (first half) and our Staff Picks we also wanted to know from Nick a.k.a. Fadeaway Barber, which hip-hop/rap albums have been his favorites in 2019 (so far).
If you listen to the FADEAWAY BARBER SHOW on say say or follow Nick on Instagram, you will be aware that Nick has an unbelievable overview of all hip-hop releases – from newcomers to hip-hop legends. For the say say listeners, Nick chose no less than 33 recommendations!
Check out the list below, listen to the music and support the artists!
Tune in to the FADEAWAY BARBER SHOW, Tuesdays at 9pm EST on say say • soulful hip-hop radio.
---
Hip-Hop/Rap 2019 (so far) – Fadeaway Barber's 33 Recommendations
[in alphabetical order]
💈38 Spesh & Big Ghost – "A Bullet For Every Heathen"
💈Adonis & VHS – "Victoria"
💈Ankhlejohn – "The Big Lordy"
💈Benny The Butcher – "The Plugs I Met"
💈Big Tone & House Shoes – "Big Shoes"
💈Daniel Son & Futurewave – "Yenaldooshi"
💈Dax Mpire – "Winter War: Game Of Clones"
💈Elcamino – "Lot & Abraham"
💈Eto & DJ Muggs – "Hells Roof"
💈Fast Life & Vinyl Villain – "Camorra"
💈Flee Lord – "Gets Greater Later"
💈Freddie Gibbs & Madlib – "Bandana"
💈G4 Jag – "Nothing Was Given"
💈Hus King Pin – "Slime Wave"
💈J Scienide & Bozack Morris – "Popular Mechanics"
💈Knowledge The Pirate – "Black Cesar"
💈Left Lane Didon – "Left Field"
💈Lisaan'Dro – "M.A.D.E"
💈Mach-Hommy – "Wap Konn Joj!"
💈Mach-Hommy & DJ Muggs – "Tues-Les Tous"
💈Mav Montana & Hobgoblin – "Angelz & Demonz"
💈Mooch & Futurewave – "Boss Sauce"
💈Nems – "Gorilla Monsoon"
💈Rigz & Chup – "Gutter Roach Slums"
💈Rome Streetz – "Nose Kandy 3"
💈Rome Streetz & Futurewave – "Headcrack"
💈Sauce Heist – "Wasabi"
💈SullyNomad – "Chrome & The 2 Wheel Madman"
💈Tha God Fahim – "The Myth That Never Quits"
💈Ty Farris & Trox – "Room 39 Part 2"
💈Vic Spencer – "Things Change I Don't"
💈YL & Zoomo – "Sunday Holiday"
💈Your Old Droog – "It Wasn't Even Close"
---
Wondering who Fadeaway Barber is and what this show is all about? Read our introductory blog post here.
Follow Fadeaway Barber on Instagram and Twitter so you don't miss any of the hip-hop tracks he regularly presents.
---
The FADEAWAY BARBER SHOW on say say brings you raw & soulful underground rap.
Tuesdays at 20 o'clock Central European Time (CET)
9 pm US Eastern Daylight Time (EDT)
---
---
Kategorie: Specials | Liste: Nick | Text: Freddy | Titelfoto (Barber Pole): Dan Gold on Unsplash
Our Blog